Howie Morales
Lieutenant Governor of the State of New Mexico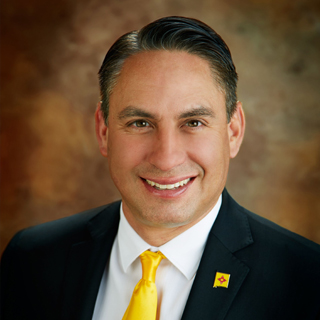 Lieutenant Governor Howie Morales, raised in Silver City, New Mexico, has spent his whole life working to improve the lives of people in his community and across our state. He served in the New Mexico Legislature on the Legislative Finance Committee for 11 years. A classroom teacher and proven leader who stands up for seniors and public education, he said "No more cuts to New Mexico's classrooms." Howie Morales has fought to protect our most vulnerable communities and local schools, to build a fair economy that works for all of us, and to move New Mexico forward.
Howie learned the value of a dollar at a young age. His father was a Vietnam Veteran who worked in the copper mine while his mother worked multiple hourly-wage jobs. He went to work as a teenager to help provide for the family and later worked as a shoe salesman and maintenance worker to put himself through Western New Mexico University. The first in his family to go to college, Howie went on to earn a PhD in education from NMSU.
Howie went home to teach students in special education in Silver City and Cobre School Districts, and became active in the community. He coached local high school baseball teams to state championships, and he is the longest serving volunteer of Big Brothers/Big Sisters of New Mexico, while raising two children ages 6 and 9. Howie earned the trust of his neighbors and was elected Grant County Clerk, where he modernized voting systems to make sure every vote counted.
Since 2008, Howie has been an aggressive leader for children and classrooms in the State Senate, fighting for his district, and to make every corner of New Mexico a better place to live. He has pushed progressive policies such as universal health care. He fought for rural and tribal economic development, and he fought to protect veterans' and senior services across the state, and mental health programs.
An experienced leader with solutions, Howie Morales has a solid record helping to lead the effort to meet our state's big challenges for better jobs and wages, and real improvements to public education.